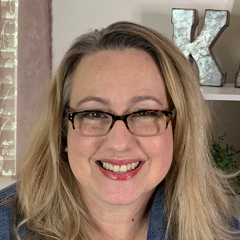 Whip Stitch
Corrina Ferguson
Once you have the knitting basics mastered, it's time to learn some finishing techniques. Seaming is an important skill to learn, as you'll need to use it in a variety of projects, like knitted baby sweaters or garments. In this video, Corrina Ferguson demonstrates how to whip stitch.
Typically, a whip stitch will be performed on the Wrong Sides of the knitted fabric, with Right Sides facing together. You'll take a strand from the stitch along each edge and bring the tapestry needle under both strands to secure. This process is repeated all the way up the piece. If you'd like a sturdier seam, you can try working your tapestry needle under two strands of the stitch on each edge. She also suggests if your piece is worked in a delicate yarn that may break easily or is fuzzy, you might want to try whip stitching your piece with a smooth, strong yarn in the same color in order to make a stronger seam.
Corrina mentions that whip stitch can be used in a variety of places and on a variety of fabrics. She discusses using whip stitch on garter stitch fabric and demonstrates how to whip stitch cast on and bind off edges together.
Explore videos by Corrina Ferguson