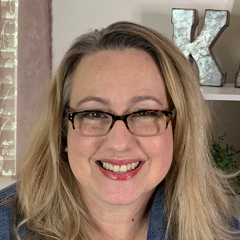 How to Work the Tubular Cast On
Corrina Ferguson
There are so many ways to cast on your knitting. Some are functional, some are decorative, but the tubular cast on is both functional and decorative. In this video, Corrina Ferguson demonstrates how to work this cast on method. This cast on is great for top-down socks, cuffs, and hems. Corrina demonstrates how it would be worked for the top of a cuff-down sock.
TUBULAR CAST ON
To begin, look at the pattern to see how many stitches you'll need for the cast on. In a highly contrasting yarn to the yarn for the project, cast on half the number of stitches needed plus one. For example, Corrina is working a sock sample that needs 32 stitches on the needle. She casts on 17 stitches (32 divided by 2 is 16. Then, 16 plus 1 equals 17) in a smooth, solid cream-colored yarn.
Once the contrasting yarn is cast on, several rows of Stockinette stitch (knit on Right Side/purl on Wrong Side) are worked. Eight to ten rows should give you a generous swatch. On the Right Side, switch to the yarn for the project, in this case Corrina uses a dark purple yarn. Another six rows are worked back and forth in Stockinette stitch.
The cuff will be worked in 1×1 (knit 1 stitch, purl 1 stitch) ribbing. The first stitch is knit from the knitting needle. Then Corrina goes to the back of the work to pick up a bump of the working yarn (dark purple). This bump or stitch is picked up and placed on the left-hand needle, making sure the right leg of the stitch is to the front of the needle. This stitch is then worked with a purl. The process is repeated by knitting one stitch on the needle, picking up the next bump from the back of the piece, bringing it up to the left-hand needle and purling it. There is an odd number of stitches on the needle; therefore, this process ends with a knit stitch.
CUTTING THE WASTE YARN
With sharp-tipped scissors, the waste yarn (cream yarn) is snipped away by cutting as close to the working yarn as possible. Corrina prefers to start at the center, working her way out to each end. The waste yarn/swatch is removed, and all the snipped yarn bits are removed. Corrina recommends using tweezers to remove the yarn, especially when working this cast on method in a fingering weight yarn.
JOIN IN THE ROUND
The tubular cast on is complete and the knitting is ready to be joined in the round for knitting. The stitches are distributed evenly on double-pointed needles. The last stitch is moved to the needle with the first stitch. A k2tog (knit two stitches together) is worked to decrease the extra stitch and to close the gap and join in the round for circular knitting.
Explore videos by Corrina Ferguson