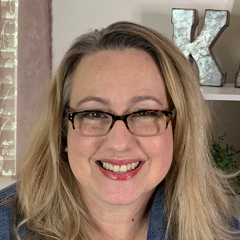 Using Two Circular Needles for Knitting Socks
Corrina Ferguson
There are many methods for knitting in the round. In this video, knitting expert Corrina Ferguson explains how to knit in the round using two circular needles.
Using two circular knitting needles for knitting in the round can be used on a wide variety of knitting projects, but it's especially useful on small circumference projects like knitted baby hats, sleeves, and socks. Corrina recommends, if possible, using two different circular needles when working this method, as it's easy to keep track of your progress. In the video, both needles that she uses are made of wood, but one circular needle has metal tips with a black cord. The other knitting needle is solid wood with a clear cord. It's important to try to have the needles be made of the same material, as using different types of needles can affect the size of the stitches.
The stitches are arranged so that half of the stitches are on each needle. To begin, bring the stitches up to the needle so that they are ready to be knit. Using the same needle, knit the stitches. Notice that the other stitches are resting on the cord of the second circular needle while the first half is being worked. Once the first half of the stitches are worked, the needle is pulled gently so that those stitches are now resting on the cord of the circular needle. The piece is turned, and the process is repeated on the second half of the stitches.

Popular All Videos videos
Explore videos by Corrina Ferguson